It's not every day that we at Digit get to have a told-you-so moment about tech predictions but when we do, we feel proud of ourselves. And today, we're undoubtedly proud of ourselves. Nearly eight months after we published exclusive renders of the 2019 'triple-camera' iPhone, Apple has launched the iPhone 11 Pro, which indeed features a much-anticipated trio of camera sensors on its back panel. You can check out our iPhone 11 Pro launch story here, and our original prediction story here.
What we predicted back in January…
We're pleased to inform you that even the physical appearance and layout of the triple camera setup on the recently launched iPhone 11 Pro match those of the unit depicted in our renders from early January. The slightly protruding camera square on the back panel of the iPhone 11 Pro consists of three camera sensors, two of which are stacked vertically. The third sensor is placed between the two in a new column on the right. Just above the third sensor is a single LED 'True Tone' flash.
"Not knowing the scale at which the image was rendered, it is difficult to say which variant will sport the three cameras. However, given the drastic change in the camera setup, this, most probably, is our closest look at the top of the line 2019 iPhone," we had averred in our prediction story early this year. Though we weren't certain exactly which iPhone 11 models would get the triple camera setup, we were sure there would be three new models in this year's line-up.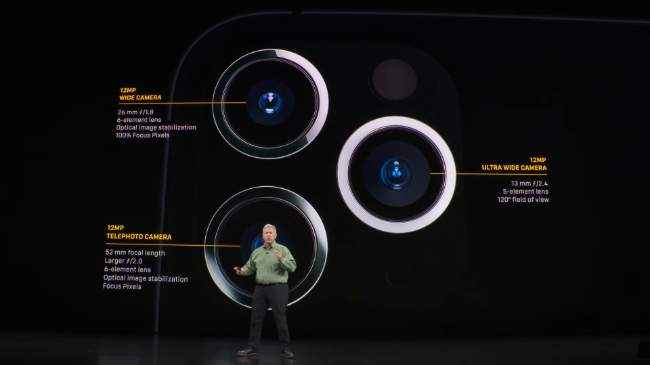 …what Apple has revealed on the new iPhone 11 Pro.
As it turns out, the Apple iPhone 11—which succeeds the iPhone XR as the most affordable model in the current range—is the only one not to come with a triple camera setup. Instead it sports a dual camera setup (wide + extra-wide). The iPhone 11 Pro and the larger iPhone 11 Pro Max are the only ones in the range to get the third, telephoto sensor. Now that we've nailed our big prediction of the year, it's time to set our sights on a detailed, exhaustive review of the new iPhone 11 series.