The stage was set for 15 tech start-ups to pitch their unique ideas to a set of panellists at St Regis, Mumbai. The NTTCommunications-NetMagic Start-up Challenge sifted through over 300 applications to arrive on 15 tech start-ups that proved most promising. Out of these 15 participants, the winner would be granted $15,000, the runner-up $8,000, and the second runner-up $5,000 USD. Following a welcome note delivered by Sharad Sanghi, Managing Director and CEO of NTTCom-NetMagic, and a keynote speech by BV Jagadeesh, Managing Partner at KAAJ Ventures, the eclectic group of individuals was ready to pitch their ideas to the panel, took the stage. Each start-up was given 5 minutes to pitch their idea which was followed by a Q&A session that lasted for 3 minutes. 

Winner – Loktra
Loktra took the trophy for their lead management system which impressed the panellists
Loktra, founded by Akhil Bhiwal, impressed panellists by offering a one-stop destination for financial institutions to run their daily operations on. The platform offers customer sourcing, lead management and quick TAT (turnaround time). It also lets institutions efficiently manage their internal staff. Their main aim, which they achieve using AI and ML technologies, is automating sales of financial institutions. Using Loktra, financial institutions can track agents using location-based tracking which utilises geo-coding and tracking features. The hassle of having to assign an agent to a lead is removed since Loktra allows automatic lead distribution and operations planning. The AI utilised enables financial institutions to prioritise their leads completely, based on on-field progress tracking. Bhiwal and team received $15,000 for this startup and won the challenge.

Runner-ups – Innovision and Drona HQ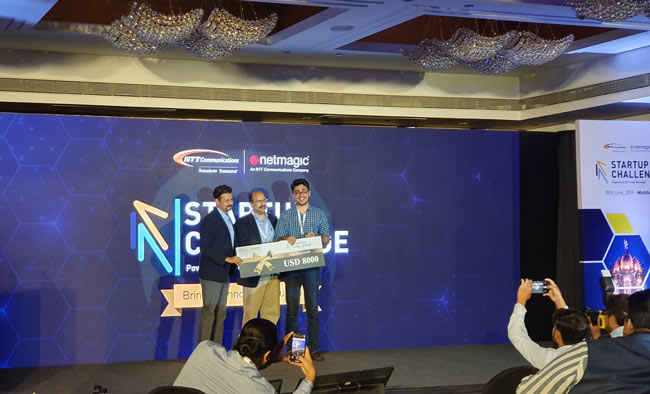 Innovision secured the first runner-up position with their product BrailleMe

Coming in as the first runner-up was Innovision, founded by Shyam Shah, an alumnus of IIT Bombay. The company has created BrailleMe, a braille tablet to bring the digital world to the visually-impaired. The electronic display has two components – a six dot 20 cell braille screen with small electronic pins moving up and down which form the script and a 6-key Perkins style keypad with 20 routing buttons. Users can even connect this screen to screen readers like NVDA, Voice Over and BrailleBack – providing them with a combination of audio and braille to access digital content. Coming in as the second runner-up was DronaHQ, which is a platform that allows businesses to build an app without using any code. They donned #NoCode for their innovative platform which uses dynamic data binding by utilising excel formulas and native experience. The drag-and-drop mechanism is employed for adding components to the app which makes it very user-friendly. Divyesh Kharade, CEO of DronaHQ and Jinen Dedhia, the Managing Director of the company received $5,000 for their start-up.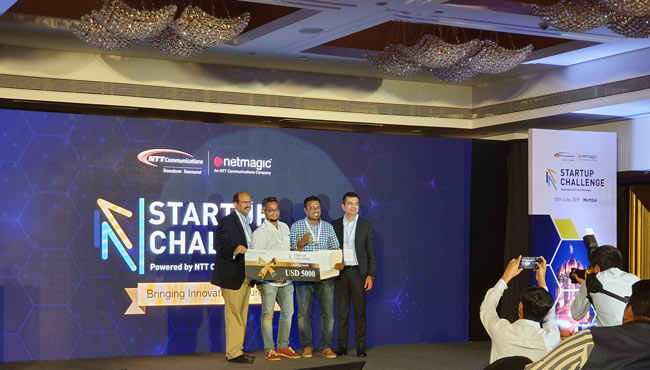 DronaHQ placed as the second runner-up in the Start-up Challenge
Participants
The rest of the 12 tech-start-ups received participation certificates for their entries and some much-needed limelight. They presented some innovative tech ideas as well. Invento Robotics showed off 'Mitri', an AI-enabled robot which can gauge a customer's age, sex, visit frequency and more in commercial stores. Aubotz provides smart robots for floor cleaning automation like their R2 iClean Scrubber Dryer which they plan to drive into schools, hotels, airports, etc. Avidia Labs uses AR, VR and mixed reality to sell or provide subscription plans for their products such as AVR Magicpedia and AR Magicpedia which can be used by children to understand difficult learning concepts by making them more interactive and immersive.

Edubuk is a start-up which aims to turn students' passions into careers. The platform conducts an online test after which the results are used to calculate top 3 intelligence spots and top 30 career paths. Faclon Labs utilised IoT devices to collect data which can give insights which help with civic management in the water, energy and infrastructure domain. Users can see the data in real-time and their IoT devices can be deployed on the premise as well as the cloud. G-Square is a company that provides AI and ML-based financial solutions. They provide data analytics, forecasting and business intelligence solutions. 
Ghost Vision is an AR company which delves headfirst into many industries. They have created a wearable device with a large FOV (field of view) to generate better AR content, an AR food app which allows you to visualise your food in 3D before you eat it and an AI assistant, Diana, who converses like a real person with a personality. Kidaura Innovation created a solution for diagnosing children suffering from disorders like autism spectrum disorder and ADHD by using a game which deciphers the child's disorder using ML. KredX is an invoice discounting platform and an integrated cash flow solutions provider. Invoice discounting helps fill the gap in working capital cycles.

Phulkian technologies aims to solve real-world issues, especially in the defence sector. They are an indigenous solution for weather forecasting which is done by using an upper atmospheric sounding system which utilises NavIC. Tardid technologies created the BRAINBOX, an AI platform which specialises in safeguarding businesses' critical assets such as machines from unplanned downtime while reducing risk and increasing safety. Galactica.AI provides geospatial analytics. They generate insights from satellite and UAV (drone) imagery. The start-up ventures and provides solutions in four spaces – energy (solar), infrastructure, defence, and environment.

While these companies failed to impress the panellists as much as the winner and the runner-ups did, they did manage to put forward innovative tech solutions in various domains and sectors.